Panorama Gór Skalistych Kanady widziana z prerii
W kilka lat po osiągnięciu umiejętności czytania, z wypiekami na twarzy, zapoznawałem się z losami bohaterów powieści Jamesa Curwooda, Jacka Londona i innych autorów powieści przygodowych. Często czekałem aż rodzice usną, bym przy świeczce lub lampce karbidowej (czas okupacji) mógł przeżywać losy twardych ludzi wśród bogatej scenerii gór i śniegów północnej Ameryki.
Nie sądziłem, że kiedyś odwiedzę te tereny. Zachwycające swoją urodą, pełne dzikiej zwierzyny. Jeszcze w drugiej połowie XIX wieku poza Indianami wśród tych bezdroży można było napotkać tylko traperów i handlarzy zajmujących się skupem skór i futer.
Przed epoką szos i motoryzacji jedynym wygodnym sposobem dostania się w Góry Skaliste była wybudowana w roku 1885 kolej (Canadian Pacific Railway), która przecina łańcuch Gór Skalistych i sięga wybrzeża Pacyfiku. Wtedy też założono Banff, pierwszą osadę. Dla tych terenów rozpoczęły się nowe czasy.
Ze względu na ich atrakcyjność – ułatwiony dostęp koleją, złoża kopalin, w tym węgla kamiennego i liczne gorące źródła, Górami Skalistymi zainteresowali się początkowo przemysłowcy. Aby zapobiec powstaniu w tym unikalnym krajobrazie zagłębia przemysłowego, z inicjatywy ówczesnego premiera Kanady wyodrębniono rezerwat przyrodniczy. Początkowo na niewielkim terenie, później rozrósł się do 4 dużych parków narodowych: Banff, Yoho, Kootenay, i Jasper. Rezerwat powstał jako trzeci na świecie, a drugi w Ameryce (po amerykańskim Yellowstone).
Postawiono na turystykę
Spółka Canadian Pacific Railway wybudowała 2 wielkie hotele, które stały się symbolami tego regionu. W pobliżu gorących źródeł, w roku 1888, oddano do użytku Banff Springs Hotel a kilka lat później nad jeziorem hotel Chateau Lake Luise. Znacznie ułatwiło turystykę przeprowadzenie w roku 1923 autostrady trans-kanadyjskiej z Calgary do Banff. Najlepszy dostęp do atrakcji turystycznych datuje się od roku 1940, w którym poprowadzono z parku Banff do Jasper Aleję Parkową Pól Lodowych (Parkway Icefields) długości 230 km. Obecnie sam tylko park narodowy Banff odwiedza rocznie blisko 5 milionów osób.
Odległość z Calgary w stanie Alberta do Banff ("kanadyjskiego Zakopanego") wynosi mniej więcej tyle, ile z Krakowa do Zakopanego , czyli nieco ponad 100 km. Jedziemy autostradą mijając u wylotu miasta obiekty sportowe z górującymi skoczniami narciarskimi, na których w roku 1988 rozgrywano igrzyska olimpijskie
.Zaraz po wjeździe w górską dolinę wspaniałe widoki. Stajemy przy jeziorze Two Jack. Na tafli wodnej odbija się masyw górski Grotto. Ciekawie rysują się ciemne plamy lasów na jasnych skałach. W pobliżu znajduje się 12-tysięczne Canmore, znane ze sportów zimowych, a zainteresowanym sportem Polakom, głównie z sukcesów Justyny Kowalczyk w biegach narciarskich.
Przed wjazdem do Banff podjeżdżamy do kilku uroczych, pobliskich jezior. Po drodze, przy szosie, spotykamy dzikie kanadyjskie owce górskie.
Położone wśród gór Banff jest centrum kulturalnym z kilkoma ciekawymi muzeami, galeriami i dorocznym festiwalem filmowym. Robi przyjemne wrażenie. Podjeżdżamy do hotelu Banff Springs. Niedaleko naszego samochodu, na polu golfowym, pasie się łoś z rozłożystymi rogami. Kanion Johnstona
Na obrzeżu Banff znajduje się kanion Johnstona. W wyżłobionej w skałach wąskiej rynnie o poszarpanych ścianach, płynie rzeka Bow, tworząc liczne wodospady i kaskady. Do górnego wodospadu mamy 2,5 km. Przyjemny spacer po półkach skalnych zabezpieczonych poręczami, wśród szumu spadającej wody.
Odwiedzamy miejsce położone 57 km od Banff, uważane za jedno z najpiękniejszych na świecie – jezioro Luizy. Nazwane tak na cześć czwartej córki brytyjskiej królowej Wiktorii, księżniczki Luizy Karoliny Alberta, żony gubernatora Kanady, księcia Johna Campbella.. U brzegu jeziora imponujący, zbudowany w 1893 roku, hotel Chateau Lake Luise z 400 pokojami. Cena za nocleg w 2-osobowym pokoju wynosi 500 – 1000 dolarów. Nad brzegiem jeziora, w pobliżu hotelu, zawsze pełno turystów. Obok uzdrowisko Lake Luise. Na zboczu góry Merlin Ridge 139 tras narciarskich, od najłatwiejszych do olimpijskich.
Niedaleko stąd, w kierunku północno-zachodnim, znajduje się otoczone10 górami jezioro Moraine (Morenowe). Z topniejących lodowców spływa woda, a z nią fragmenty skał i rozpuszczone związki mineralne. Nadają one wodzie jeziora głęboko niebieską barwę. Pejzaż może konkurować z obrazami terenów wokół jeziora Luizy. Widok ten znajduje się na 20-dolarowym banknocie kanadyjskim. Aby sfotografować całą panoramę, trzeba posiadać szerokokątny obiektyw. Na naszych zdjęciach widoczne są tylko 2 szczyty, ale reprezentują one całą urodę tego miejsca..
Strach i zdziwienie
Jadąc dalej skręcamy w lewo do Narodowego Parku Yoho. Nazwa ta w języku Indian oznacza strach i zdziwienie. Przez park przepływa rzeka Wierzgającego Konia (Kicking Horse River). Wartki strumień górskiej rzeki przebił się przez niższe, miękkie, wapienne skały z pozostawieniem górnej warstwy skał mniej podatnych na erozję. Powstał naturalny most z wąską szczeliną pośrodku.
Na prawo od głównej trasy, na końcu wąskiej szosy, wodospad Takakkaw (Wspaniały). Niestety zaczyna padać i drogę z parkingu pokonujemy w deszczu. Już z daleka słychać huk wody spadającej z wysokości 384 metrów. Rozbryzgi nie pozwalają na podejście bliżej. Na zdjęciu widać obok wodospadu niewielkie, białe i kolorowe punkty. To turyści, którzy pomimo niepogody, wspinają się po śliskich skałach.
Dalej na zachód szosa prowadzi w stronę jeziora Szmaragdowego (Lake Emerald). Pada, wokół szaro, ale jezioro bije w oczy intensywnym kolorem. Piękną oprawę jeziora stanowią lasy iglaste. Zachodnie świerki, cisy, białe sosny i czerwone cedry różnią się od europejskich. Są wyższe i smuklejsze.
Wracamy do parku Banff. Szosą Icefield Parkway jedziemy w stronę Jasper. Ruch duży. Każdego letniego miesiąca przejeżdża tędy 100.000 pojazdów. Po obu stronach wspaniałe góry, pomiędzy szczytami liczne lodowce. Po drodze sporo przyciągających wzrok małych i większych jezior. Przed oczami pojawiają się ciągle nowe łańcuchy górskie. Nigdzie nie widać ludzkich zabudowań. Przestało padać, humory dobre. Stajemy na chwilę przy bajecznie kolorowym jeziorze Peyto. Późnym popołudniem docieramy do ukrytych wśród drzew domków kampingowych. Czekamy w recepcji aż para turystów załatwi formalności meldunkowe.
– Sorry – mówi do nas recepcjonista – przed chwilą sprzedałem ostatni wolny pokój. Jeśli jedziecie w stronę Jasper, najbliższym miejscem noclegowym jest Glacier View Inn, 80 kilometrów stąd. Mogę spróbować dokonać rezerwacji.
Miny nam zrzedły, ale dobrze że mamy rezerwację i że jeszcze nie jest ciemno. Możemy napawać się wspaniałymi widokami. W oddali pojawiają się interesujące góry, jakby pomalowane "w zebrę". W zdecydowanie białe i ciemne pasy. Takich skał nigdy nie widzieliśmy. Po przejechaniu dalszych kilometrów sprawa wyjaśnia się. Góry utworzone są ze skał osadowych układających się naprzemiennie w twarde i miękkie warstwy. Te twarde wystają tworząc płytkie półki. Na nich osadził się śnieg. -Śnieg? 24 sierpnia!
Za chwilę nie mamy już wątpliwości. Wpadamy w zamieć śnieżną. Samochód zaczyna tracić przyczepność. Jedziemy powoli. Wreszcie hotel. Zamieć trwa, więc budynku nie widać, jest na wzniesieniu, ale wjazd jest zabroniony. Zostawiam samochód na parkingu i metalowymi schodami, przytwierdzonymi do pionowej ściany skalnej, pnę się kilka pięter w górę. Na szczęście dostajemy pokój, ładny, duży, dwupoziomowy. Miła dziewczyna obsługuje hotelowy busik, którym zabieramy potrzebne przedmioty z samochodu. Informuje, że to pierwszy śnieg tego lata.
Rano budzimy się w dobrych nastrojach. Piękna pogoda. Z okna wspaniały widok na lodowiec. Tego można było się spodziewać. Przecież w polskim tłumaczeniu nazwa tego schroniska to "Widok Na Lodowiec". Znajdujemy się obok największego (389 km2 ) pola lodowego Kanady, Columbia Icefield. Z niego, pomiędzy szczytami, wysuwają
się skierowane w różne strony języki 6 lodowców. Z naszego okna najlepiej widoczny jest lodowiec Athabasca.
Na śniadaniu spotykamy Polaków zamieszkałych w Kanadzie. Informują nas, że jadą tą trasą po raz trzeci.
– Tak wam się podoba? – pytamy.- To wspaniałe tereny, ale prawdziwa przyczyna jest inna. Obwozimy gości. Gdy ktoś z Polski przyjeżdża do nas, zwykle chce poznać coś ciekawego. Nie mamy nic lepszego do zaoferowania.
W hotelu oglądamy wystawę poświęconą czasom pionierów. Przedstawione fotogramy uświadamiają nam ile niewygód trzeba było kiedyś znieść, aby tu dotrzeć i ile trudu kosztowało wybudowanie szosy przez te wysokie góry.
Spod hotelu odjeżdża co kilkanaście minut na objazd lodowca Athabasca "Snowcoach Tour" specjalny samochód. Jego wielkie koła przystosowane są do jazdy po śniegu i lodzie. Trwa to 55 minut i podobno wywołuje wielkie wrażenie. Szkoda, że z braku czasu rezygnujemy z tej przyjemności.
Od Columbia Icefield do Jasper szosa biegnie w dolinie rzeki Athabasca. Po przejechaniu kilkudziesięciu kilometrów docieramy do miejsc gdzie woda z hukiem opada w dół tworząc malownicze wodospady Athabasca Falls, znane ze swej siły zależnej od dużej objętości wody.
Nazwa tonącego w zieleni miasteczka Jasper pochodzi od imienia pierwszego osadnika, właściciela punktu skupu skór i futer, Jaspera Howesa. W pobliżu Jasper liczne, ciekawe widokowo miejsca. Wybieramy przepaścisty, wąski kanion Maligny o pionowych, 100-metrowych ścianach, jezioro Maligny i jezioro Patrycji. Ostatnim przystankiem jest jezioro Piramidy. Góruje nad nim trójkątny szczyt. Niechaj o urodzie tych miejsc zamiast opisów świadczą załączone zdjęcia.
Luksusowe szosy, dobry samochód, wygodne hotele. Co to ma wspólnego z dramatycznymi przygodami twardych ludzi, traperów z książek czytanych w dzieciństwie?
A jednak…
Przed nami są te same pejzaże, które oglądali pionierzy. Widzimy ich więcej, bo przemieszczamy się szybciej. Cywilizacja wtargnęła tu tylko w postaci szos i przyległych do nich nielicznych urządzeń turystycznych. Pozostałe tereny są dzikie. Pełno jest dzikich zwierząt. Nikt na nich nie poluje. Część ginie pod kołami lokomotyw i samochodów. W parkach wiszą instrukcje jak zachować się, gdy spotkamy niedźwiedzia. Dowiadujemy się, że w poprzednim roku niedźwiedzie rozszarpały 13 turystów.
W Górach Skalistych żyją dwa gatunki niedźwiedzi: większy, brunatny, grizzly, który podczas stania na tylnych łapach ma 3 metry wysokości i mniejszy, o wadze nie przekraczającej 150 kg, amerykański, zwany też (nie każdym przypadku słusznie) czarnym. W 3 parkach, które odwiedziliśmy, przebywa obecnie około 170 niedźwiedzi grizzly. Amerykańskich jest znacznie więcej, ale trudno je policzyć, bo chowają się przed ludźmi.
Kuguary, największe z żyjących tu kotów, dochodzące do 100 kg wagi od 1900 roku zaatakowały ponad 100 turystów, zabiły około 25. Niebezpieczeństwo czyha również ze strony grzechotników. Są także wilki, kojoty, rysie, rosomaki, jelenie, muły, wapiti, bobry i liczne gryzonie.
Podróż przez 3 kanadyjskie parki narodowe zajęła nam 3 doby. Byliśmy tu zbyt krótko.. Wprawdzie wycieczka pozostaje niezapomniana, ale licznych, ciekawych miejsc nie zdążyliśmy zobaczyć. Warto tu się znaleźć, warto poświęcić co najmniej 4 – 5 dni. Kto będzie w pobliżu i nie odwiedzi tych parków, wykaże brak rozsądku i popełni grzech. Niewiele jest na świecie równie ciekawych miejsc. Namawiam na przejazd przez Góry Skaliste.
Tylko proszę nie karmić niedźwiedzi.
Leszek Szczepański
Mapa parków narodowych
Jezioro Two Jack i góra Grotto
Hotel Banff Springs
Kanadyjska owca górska. P.N. Banff
Kanion Johnstona. P.N. Banff
Jezioro Luizy i lodowiec Wiktorii. P.N. Banff
Hotel Chateau Lake Luise. P.N. Banff
Jezioro Morenowe. P.N. Banff
Naturalny most na "Kicking Horse River". P.N. Yoho
Jezioro Morenowe. P.N. Yoho
Hotel "Glacier View Inn" w pobliżu Columbia Icefield. P.N. Jasper
Pola Lodowe Columbia. Język lodowca Athabasca. P.N. Jasper
Wodospady Athabasca. P.N. Jasper
Jezioro Maligny. P.N. Jasper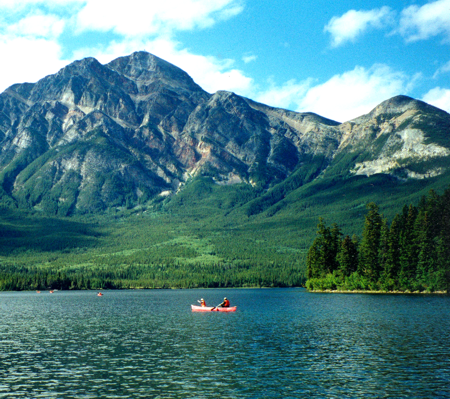 Jezioro Piramidy. P.P. Jasper
Grizzly
Niedźwiedź amerykański