I pomyśleć, że jedyny w Polsce teatr rewiowy SABAT  w Warszawie ma już ponad 15-letnią przeszłość. Powstał w 2001 roku we wnętrzach byłego Teatru Kameralnego przy ul. Foksal 16 za sprawą powszechnie znanej tancerki i choreografa w jednej osobie, na początek założycielki grupy tańca nowoczesnego SABAT , Małgorzty Potockiej. Obecnie Królowa Polskiej Rewii , jak ją trafnie okrzyknęły media, absolwentka Warszawskiej Szkoły Baletowej i jednocześnie stypendystka brodwayowskiej szkoły tańca i paryskiej rewii jest właścicielką SABATU, który powstał z jej pasji, ba – miłości do teatru tańca. Mówi o tym za każdym razem, gdy pojawia się na jego scenie czyli zawsze, gdy scena ożywa kolejnym spektaklem.
Kilka miesięcy temu, gdy Małgorzata Potocka gościła wraz z Iwo Orłowskim w Dworze Anna w Jakubowicach Konińskich k/Lublina, miałam okazję bliższego poznania obydwojga artystów. Wówczas padła zachęta odwiedzenia Teatru Sabat. No i stało się.
Wraz z najbliższymi w minionym tygodniu, wybrałam się na rewię "Hoolywood na Foksal". Widowisko teatralne czerpiące z różnych estetyk (musicall, rewia baletowa)  i gatunków (spektakl, kabaret, opera, operetka, balet ) z wykorzystaniem gry aktorskiej, tańca i śpiewu. Z imponującym entourage (przepych scenicznej oprawy i kostiumów). Był to szok estetyczny w najbardziej pozytywnym tego słowa znaczeniu. No, ale od początku…
Lat temu kilkanaście byłam w paryskim Moulin Rouge, najbardziej niegdyś skandalizującym klubie nocnym. W Las Vegas – o mały włos się nie znalazłam. W paryskim Czerwonym Młynie tańczyły wychowanki Małgorzaty Potockiej. Podobnie w Lido. Owacyjnie je oklaskiwano za talent i polską urodę. Idąc do warszawskiego Teatru  Sabat oczekiwałam podobnych wrażeń. Nie zawiodłam się.  Secesyjną odmiennością zagrały tego wieczoru same wnętrza teatru z dominującą czerwienia w tle. Dały znać o sobie klimaty obrazów Toulousa Loutreca, paryskiej cyganerii. Prawdziwego kabaretu, gdzie lampką szamana każdy gość jest witany na wstępie, by potem liczyć na podniety nie tylko dla ducha , ale ciała (kolacja, dancing na scenie itp.).
Nieskromnie stwierdzę, że w Sabacie poczułam się (poczuliśmy się) gościem specjalnym. Szampanem powitał nas w foyer znakomity polski tenor, Iwo Orłowski (m.in. Escamill z Carmen, książę Orłowski – Zemsta Nietoperza, Cyrulik – Człowiek z La Manchy czy Boni – Księżniczka Czardasza). A, że jest lublinianinem z krwi i kości, showmanem z krwi i kości, człowiekiem o  ujmującej osobowości, świetnie sprawdzającym się nie tylko w roli tenora, aktora, ale i prezentera , w pewnym momencie zaskoczył nas publicznym powitaniem ze sceny. Tuż przed kolejnym, solowym występem, którym, jak poprzednimi zachwycił charakterystyczną barwą głosu, a i …samym sobą. Iwo  Orłowski w konstelacji Sabat świeci najjaśniejszym światłem . Uwodzi nie tylko głosem. Posiada,  jakże cenną w przypadku utalentowanego artysty  charyzmę sceniczną.
Posiada ją również Małgorzata Potocka. Niezwykle ciepła właścicielka Teatru SABAT, który dzięki entuzjastycznemu odbiorowi przedstawień przez publiczność stał się kulturalną wizytówką Warszawy. Magnesem nie tylko dla krajowego, ale i międzynarodowego widza.
Właścicielka Sabatu witając na wstępie publiczność "Hollywood na Foksal", powiedziała: " Jestem szczęśliwa, że mój teatr jest popularny, osiągnął sukces. Zawdzięcza go Państwu, ale jego twórcami są moi artyści, cały zespół. Każdy spektakl rodzi się z miłości , pasji i zaangażowania tak mojego, jak nas wszystkich. Będę zaszczycona mogąc gościć Państwa ponownie!".
O to " ponownie" Droga Małgosiu, Królowo Polskiej Rewii, możesz być spokojna. Ja i moi najbliżsi już teraz to gwarantują wynosząc wdzięczność za umożliwienie przeniesienia się w świat niezapomnianych emocji. Hitów kinowych. Jakże zręcznie aktorsko przez nie prowadzi  Jacek Mureno!
Spektakl "Hoolywood na Foksal", w którym motywem przewodnim jest muzyka (największe przeboje) z najsłynniejszych filmów światowych i polskich urzeka pod każdym względem. Tempem akcji również. Zachwycają soliści , wykonawcy ulubionych przebojów m.in. z filmów James Bond, Chicago, Burleska, Cabaret, Flash Dance, Nina, Moulin Rouge czy Titanic rewelacyjnie wplatający się kostiumami w multimedialną scenografię, filmowe kolaże. Podobnie balet i jego soliści na czele z Anitą Klimecką O brawurowym balecie z kankanem na czele, jego niezliczonych kostiumach (w tym samej Królowej Polskiej Rewii) można opowiadać w nieskończoność chociaż –  lepiej byłoby malować. Ale od czego są zdjęcia. One dopiero oddają klimaty tanecznego Brodway czy zmysłowego Moulin Rouge.  Efektownie potęgują wspomniane klimaty popisy akrobatyczne. Tylko pozornie w tle. Niezapomniane.
Konstelacja SABAT obfituje w talenty wokalne i taneczne. Niewątpliwie za sprawą kierownictwa Teatru, które samo reprezentuje wyżyny artyzmu. Niezmiennie sięga po najlepszych, że wspomnę takich wokalistów, jak Agnieszka  Wojciechowska, Mariusz Jaśko czy Tomasz Czerski.
Wiwat SABAT! Wiwat Artyści! Do zobaczenia…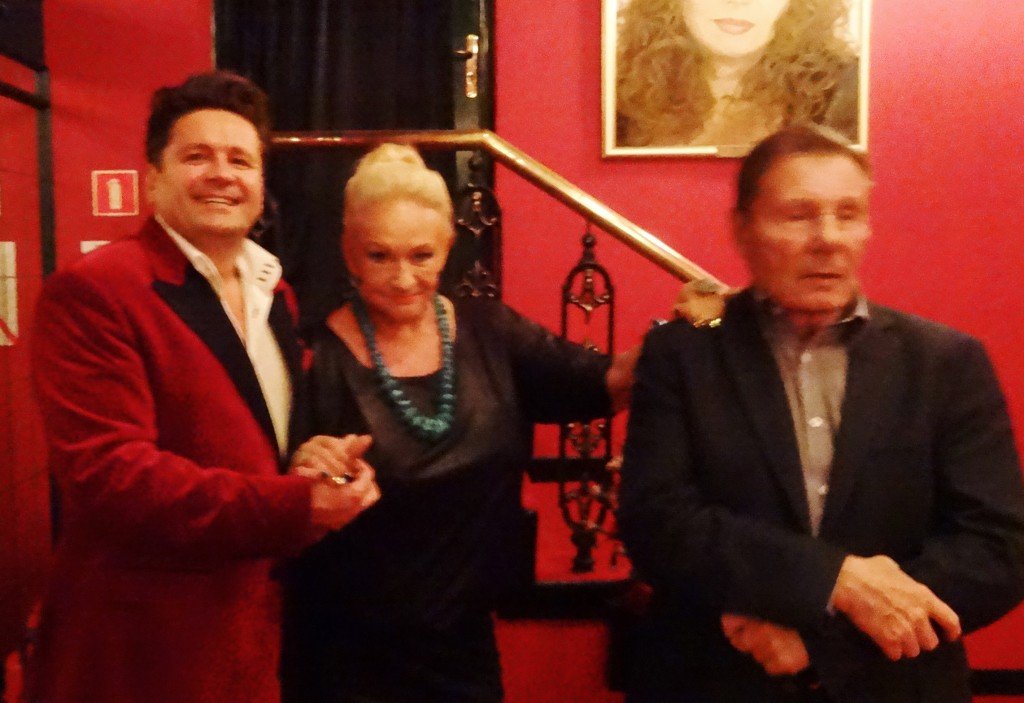 Grażyna Hryniewska  
PS. Kto jeszcze nie był w Teatrze Sabat niech to uczyni koniecznie! Najlepiej od zaraz. A okazja będzie już 21 bm. szczególna – nowa rewia i imieniny Małgorzaty Potockiej. Małgosiu- bądź nadal równie kreatywna !
Foto- archiwum Teatru Sabat