Najgorętsza stolica świata
Nie pamiętam, czy kiedykolwiek tak długo zastanawiałam się nad wyborem tytułu publikacji, jak to miało miejsce w przypadku relacji z Bangkoku. Skąd taka rozterka? Chociażby z tego względu, że nazwa stolicy Tajlandii tylko w ustach Europejczyków brzmi nieskomplikowanie – Bangkok. W języku tajskim jest to już 64-sylabowa nazwa i w prostym tłumaczeniu brzmi następująco: "Miasto Aniołów, wielkie miasto, wieczny klejnot, nie do zdobycia miasto boga Indry, wspaniała stolica świata wspomaganego przez dziewięć pięknych skarbów, miasto szczęśliwe, obfitujące w ogromny Pałac Królewski, niebiańskie miejsce rządzone przez zreinkarnowanego boga, dane przez Indrę, a zbudowane przez Wisznu". Początek tej nazwie dał Rama I w czasie koronacji w 1782 r. Potem dodano do niej jeszcze 21 dalszych sylab, co sprawiło, że nazwa ta znalazła się w "Księdze rekordów Guinnessa".

Sam Bangkok, przez Tajów zwany Kutg Thep, jako najszybciej i najbardziej dynamicznie rozwijające się miasto w Azji Południowo- Wschodniej na taki zaszczyt podwój nie zasługuje. Dość wspomnieć, że od II wojny światowej liczba jego mieszkańców wzrosła dziesięciokrotnie i obecnie metropolia o powierzchni 1531 km kw. usytuowana na brze gach rzeki Chao Phraya liczy ok. 12 mln mieszkańców. Na każdym kroku zadziwia kontrastami. Zamierzonym chaosem zabudowy. Obok imponujących drapaczy chmur nadal miejscem zamieszkania pozostają łodzie i liche domki na palach usytuowane wzdłuż labiryntu kanałów. Te nadal są arteriami komunikacyjnymi. Stąd bierze się jeszcze jedna nazwa Bangkoku – Wenecja Wschodu.
Pierwsze wrażenia najważniejsze
Ambasada Królestwa Tajlandii w Polsce tak skonstruowała program mojego po bytu w Tajlandii, że nowoczesne lotnisko Suvarnabhumi w Bangkoku podziwiałam kilkakrotnie. A warto było, bo w odróżnieniu od naszego imponuje funkcjonalnością.
Za pierwszym razem na Bangkok mogłam po patrzeć jedynie z okien lotniska, a potem samo lotu lecącego na wyspę Phuket (o tym cudownym zakątku Tajlandii pisałam w poprzedniej relacji). Cztery dni później jednak przyleciałam z lotniska w Krabi do Bangkoku na dwa dni. Prosto na lunch w ekskluzywnej restauracji Blue Elephant, gdzie w asyście Khun Nooror Somany Stepe (dyrektora) i generalnego managera, pani Kitiya Pitsathanporn, degustowałam przysmaki kuchni tajskiej, trunki, wina i szampan. Serdeczność restauratorów, jak się potem okazało tutaj powszechna, przeszła moje najśmielsze wyobrażenia. W przyrestauracyjnej szkole kuchni tajskiej zdobyłam umiejętność przyrządzenia kilku smakowitych dań. Potwierdza to teraz posiada ny przeze mnie certyfikat. I warto było posiąść przynajmniej taką wiedzę, bo taj ska kuchnia najwybredniejszych powala na kolana wykwintnością smaków. Blue Elephant, czyni to od 27 lat, zdobywając rozgłos światowy.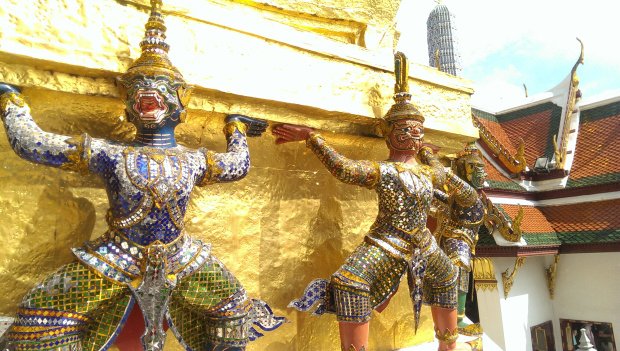 Po rozkoszach podniebienia czekały na mnie w Bangkoku dalsze mocne wrażenia. Hotel Dusit Thani, usytuowany w samym centrum Bangkoku z czekającym na mnie królewskim apartamentem na 15 piętrze. Z masażem tajskim w hotelowym SPA, z widokiem na nowoczesne drapacze chmur z tradycyjnymi domkami duchów opiekuńczych na dachach. Z efektownie iluminowaną fontanną-wodo spadem, przy której miło spędziłam wolną chwilę. Tych wolnych chwil jednak w Mieście Aniołów było jak na lekarstwo. Atrakcja goniła atrakcję…
A skoro już o centralnie usytuowanym hotelu mowa, warto dodać, że Miasto Aniołów właściwie nie ma jednego wy dzielonego centrum. Tutaj każda dzielni ca ma własne. Prawdziwych atrakcji na leży szukać w otoczonym wodą Starym Mieście. W dzielnicy Rattanakosin. Tutaj czas najwyraźniej się zatrzymał, co po twierdza, że Bangkok jest metropolią o wielu obliczach – niewymuszenie łączącą tradycję z nowoczesnością. To najgorętsze miasto świata (z wilgotnością powie trza sięgającą 85 proc.) w świątynnych zakamarkach skłania do głębszej zadumy, a na ulicach i targowiskach tętniących życiem rozbawia.
W godzinach szczytu Bangkok wydaje się być totalnie zakorkowany mimo sprawnie działającej napowietrznej kolei miejskiej, zwanej Skytrain. Nic dziwnego, że już myśli się o dodatkowych środkach komunikacji. M.in. o tramwajach z Polski rodem. Bo tylko to, co po rusza się po ziemi w Bangkoku zwanym Wenecją Wschodu, bo leżącym na wodzie, ma jeszcze rację bytu.
Gdzie najczęściej można spotkać tury stów? Przede wszystkim w Wat Phra Kaeo w dzielnicy Ratanakosin z imponującymi ilością i wielkością architektonicznie niepowtarzalnymi urodą stupami, gigantycznymi posągami strażników i miniaturą jednej ze świątyń z kambodżańskiego Angkor. Zaraz potem w głównej świątyni z posążkiem Szmaragdowego Buddy, którego szaty sezonowo zmienia wyłącznie król. Naturalnie przed Pałacem Królewskim w odmiennym od reszty stylu kolonialnym, gdzie zawsze zaciekawienie wzbudza zmiana warty, złoty tron królewski oraz ogród. Zaraz potem w świątyni Wat Po z kapiącym od zło ta gigantycznym posągiem leżącego Buddy (wysokość – 16 m i długość – 45 metrów). Wypełnia on dosłownie całe wnętrze. Wokół przechodzą wierni i turyści, wrzucając do kilkudziesięciu ustawionych tutaj miseczek pieniężne ofiary. I na koniec przy czterech bogato zdobionych czedi z relikwiami Bud dy, zbudowanych przez ko lejnych królów, czyli Ramę I, II, III i IV.
Gdy zajdzie słońce, turystów zwabia najsłynniejsze miejsce nocnych rozgrywek Pat Pong, mieszczące się między droga mi Silom i Suranwongse. W dzień jest to główne centrum biznesowe, w nocy miejsce rozrywki wszelakiej. Ktoś trafnie po wiedział, że Bangkok nigdy nie śpi. Przez 24 godziny tętni życiem. Nocą staje się spektaklem lśniącym blaskiem neonów.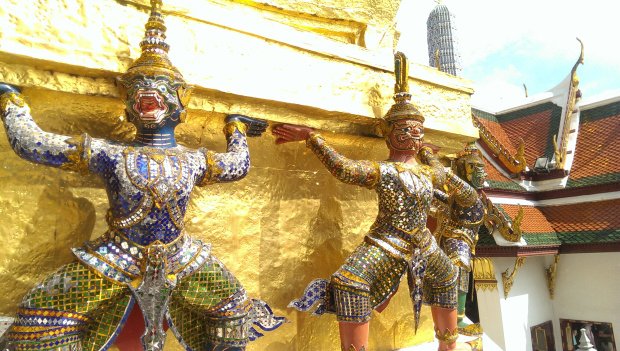 Bangkok z lotu ptaka
Dobrze, że nie jestem osobą cierpiącą na lęk wysokości, bo w przeciwnym wypadku nie mogłabym uczestniczyć w uroczystej kolacji w restauracji Si rocco, mieszczącej się na 63. piętrze jednego z najwyższych hoteli w Bang koku. Wydał ją na cześć gości z Polski, dziennikarzy i przedstawicieli Ambasady Tajlandii w Polsce, szef polskiego biura podróży w Bangkoku – Ultima T&T Co., Ltd, p. Janusz Koniak pospołu z dyrekcją hotelu i restauracji.
Oglądając z lotu ptaka panoramę Miasta Aniołów (a jest to widok oszałamiający), delektowałam podniebienie daniami śródziemnomorskimi i nie tylko. Smak rozpływającej się w ustach jagnięciny, dotąd pamiętam. No i to jeszcze, że p. Janusz Koniak, absolwent SGPiS, przez 22 lata pracujący w Polsce jako księgowy, od 1989 r. zadomowił się w tym najbardziej wilgotnym mieście świata na dobre. Tutaj się po wtórnie ożenił, tym razem z Tajką i ma z nią synów. Jego biuro organizuje atrakcyjne eskapady po Tajlandii, Birmie, Laosie i Kambodży. Największym powodzeniem cieszą się one u Polaków i Rosjan.
Po sutej kolacji było jeszcze zwiedzanie hotelu (zdarzały się 400 -metrowe apartamenty) i innych restauracji, ba rów a nawet toalet. Np. męskiej z kaskadowo płynącą wodą po szybach okiennych prosto do… spłuczki.
Wizyty kurtuazyjne
O tym, co oznacza tajski protokół dyplomatyczny, mogłam się przekonać następnego dnia pobytu w Bangkoku. W programie znalazły się dwie wizyty kurtuazyjne. W Ministerstwie Turystyki i Sportu u dyrektora Suvit Vodmanee, a następnie u prof. Bogdana Góralczyka, ambasadora Rzeczypospolitej Polskiej w Tajlandii. Na początku mówiło się o protokólarnych półgodzinnych wizytach. Trwały znacznie dłużej, bo też było o czym rozmawiać w autentycznie przyjacielskiej atmosferze.
Z przywiezionych do Pol- ski notatek z tych rozmów wyławiam teraz najciekawsze informacje dotyczące tajskiej turystyki. TAT posiada 6 biur w Europie. Sami Tajowie najchętniej wyjeżdżają do bliskiej sobie kulturowo Japonii i Chin. Dla turystów z Europy i Azji przygotowali sieć ponad tysiąca większych hoteli od trzech gwiazdek w górę. Polecają nie mające sobie równego wypoczynkowo i krajobrazowo Południe oraz Północ z kolebką tajskiej kultury i państwowości w Chiang Mai i w Chiang Rai. Naturalnie sam Bangkok. Jest to o tyle proste, że każda prowincja Tajlandii posiada własne lotnisko, dobrą komunikację kolejową i drogową. Świetne drogi. Nawet w dżungli zdarzają się gładkie jak stół dwupasmówki.
27 września Tajlandia obchodziła Dzień Turystyki Międzynarodowej. 1000 osób uczestniczyło w związku z tym w rajdzie rowerowym do Sukotai. Odbywał się on pod hasłem zmniejszania tzw. efektu cieplarnianego. Rajdowcy piknikowali i sadzili drzewa – pochłaniacze dwutlenku węgla z atmosfery. By wszystko od bywało się ekologicznie, uczestników rajdu wyposażono w naczynia z trzciny cukrowej, ulegające szybkiej biodegradacji.
Trzeba pamiętać, powiedział pan dyrektor, że kiedyś Tajowie jadali na liściach palmowych. Wyrzucając je, nie zaśmiecali kraju, tak jak czy nią to dzisiaj plastiki e m wymagającym spalania w wysokich temperaturach, co pomnaża efekt cieplarniany. Od nowego roku już nowy rząd (23 grudnia br. odbędą się w Tajlandii wybory), będzie kontynuował ten i wprowadzał inne pro gramy ekologiczne, które sprawią, że Tajlandia będzie jeszcze piękniej sza, a przede wszystkim zdrowsza.
Drugi rozdział notatek pochodzi już z piętnaste go piętra wieżowca przy Rama 9 Road w Bangkoku, od niedawna siedziby Ambasady Rzeczypospolitej Polskiej. O jej przeprowadzce z opisywanej wcześniej dzielnicy rozrywki zdecydował obecny (od czterech lat) ambasador – prof. Bogdan Góralczyk. Doskonale czujący się w jednym z najsympatyczniejszych, jego zdaniem, krajów na świecie. Pięknym, bezpiecznym i życzliwym innym nacjom. Tolerancyjnym religijnie.
Tajlandię zamieszkują różne narodowości (Laotańczycy, Chińczycy, Malajowie, Hindusi, Khmerowie, Wietnamczycy) i tym samym wyznawcy różnych religii. Wszyscy zgodnie koegzystują i wspólnie obchodzą swoje święta.
W ciągu minionych czterech lat pan ambasador starał się zaznaczać swoją obecność w każdej dziedzinie tajskiego życia. Eksperymentalnie wy stawił dla Tajów nawet sztukę Mrożka i był to sukces kulturalny. Z za dań teraz najistotniejszych wymienił przeforsowanie utworzenia bezpośredniego połączenia lotniczego z Polski do Tajlandii, otwarcie konsulatu na Phuket, ożywienie już nawiązanej współpracy naukowej między obydwoma krajami (targi edukacyjne, nowe technologie), również gospodarczej, czemu powinny służyć obopólne kontakty – na początek chociażby typowo turystyczne, które po zwalają na bliższe poznanie krajów i ludzi.
Po tych dwóch spotkaniach czekało na mnie jeszcze jedno, na tzw. najwyższym szczeblu, ale po kolejnym locie, tym razem z Bangkoku do Cziang Mai na północy Tajlandii. Ale o tym już w następnej korespondencji…
Grażyna Hryniewska