Dwór Anna w Jakubowicach Konińskich z racji X Ogólnopolskiego Turnieju Nalewek zapełnił się ponownie smakoszami tego szlachetnego trunku. Nie w nadmiarze, jak zazwyczaj, ale za to w doborowym składzie, pozwalającym w pełni docenić rozkosze święta, którego autorami są Anna i Kazimierz Gajkowie. Już na wstępie brawa im za to!
Jak na jubileuszowy Turniej Nalewek przystało miał prawdziwie fajerwerkową oprawę. Atrakcje i te dla ducha, i ciała goniły jedna za drugą. Na początek jednak informacja o laureatach tegorocznej edycji turnieju. O prymat pierwszeństwa walczyło tym razem (podobnie jak przed rokiem) ponad sto nalewek . Pierwsze miejsce jednogłośnie zajęła porzeczkówka z 2013 roku. Jej autorem jest Wojciech Goldsztejn z Dysa. – Nalewka miała niezwykły aromat, zapach, kolor i harmonię. Wszyscy odczuliśmy jej kunszt – mówiła Małgorzata Łobodzińska, członek jury, kanclerz Uniwersytetu Medycznego w Lublinie. Drugie miejsce zajęła Zofia Krzyżanowska z Rawy Mazowieckiej, która zgłosiłą do turnieju mirabelkę z 2015 roku. Trzecie miejsce przypadło Andrzejowi Nowickiemu z Nasutowa, który nazwał swą nalewkę "ćwiekówką".
Wyróżnienie otrzymał Jarosław Michałkiewicz za nalewkę z maliny oraz Krzysztof Jarząbek za nalewkę czeremchową. Dodam, ta ostatnia mnie osobiście najbardziej przypadła do gustu – za wspaniały smak, a i wyróżniającą oprawę – piękna butelka i opakowanie o nazwie SEN.
W tym roku, w skład jury wchodzili: poseł Anna Kalata, hrabia Antoni Belina-Brzozowski, prezenter Michał Fajbusiewicz, mistrz olimpijski Grzegorz Skrzecz oraz Zofia Czernicka, dziennikarka. To jej przypad w udziale zaszczyt przewodniczenia jury.  Zapytana, co jury degustujące ponad 100 nalewek (niezła kondycja) ,brało pod uwagę , powiedziała: "  Dobre nalewki muszą mieć przede wszystkim odpowiednie proporcje i muszą trochę postać, bo się przegryźć . Degustując kolejne straciliśmy trochę zdrowia, ale zyskaliśmy na humorach.
 Z okazji turnieju nalewek, do Jakubowic przyjechał gość specjalny, czyli Anna Maria Anders. Promowała książkę o rodzicach, ze wspomnieniami z dzieciństwa.
Zainteresowanie wzbudził specjalny pokaz mody w pięknych ogrodach "Dworu Anna". Suknie dla pań zaprojektowały na tę ogrodową okazję  – Agnieszka Tokarz-Iwanek (dopracowany w artystycznych detalach koktajl)  oraz Maja Ewa Czernik ( wybitnie malarskie kreacje w pomyśle czyniące modelki nierealnymi nimfami).
  Męskie garnitury firmy Kruk's Different prezentowali znani panowie, co kolekcji przydało wiele uroku.
Oprawa Turnieju wyraźnie też zyskała dzieki plenerowej wystawie malarstwa Galerii Wirydarz. Obrazy pięknie wtopiły  się w bujną dworską zieleń. Chetnie też je kupowano.
Już w godzinach późno nocnych   gromkie brawa zebrał ( a i nowe serca dam zdobył przy okazji) znakomity  polski  tenor  i aktor w jednej osobie (aktualnie dyrektor artystyczny Teatru SABAT), Ivo Orłowski.  Jego recital wywarł ogromne wrażenie na słuchaczach. Wraz z Ivo Orłowskim wystąpił, zdobywając  powszechny aplauz słuchaczy,  skrzypek – wirtuoz  z orkiestry VIVA IVO,  Mariusz Kielan.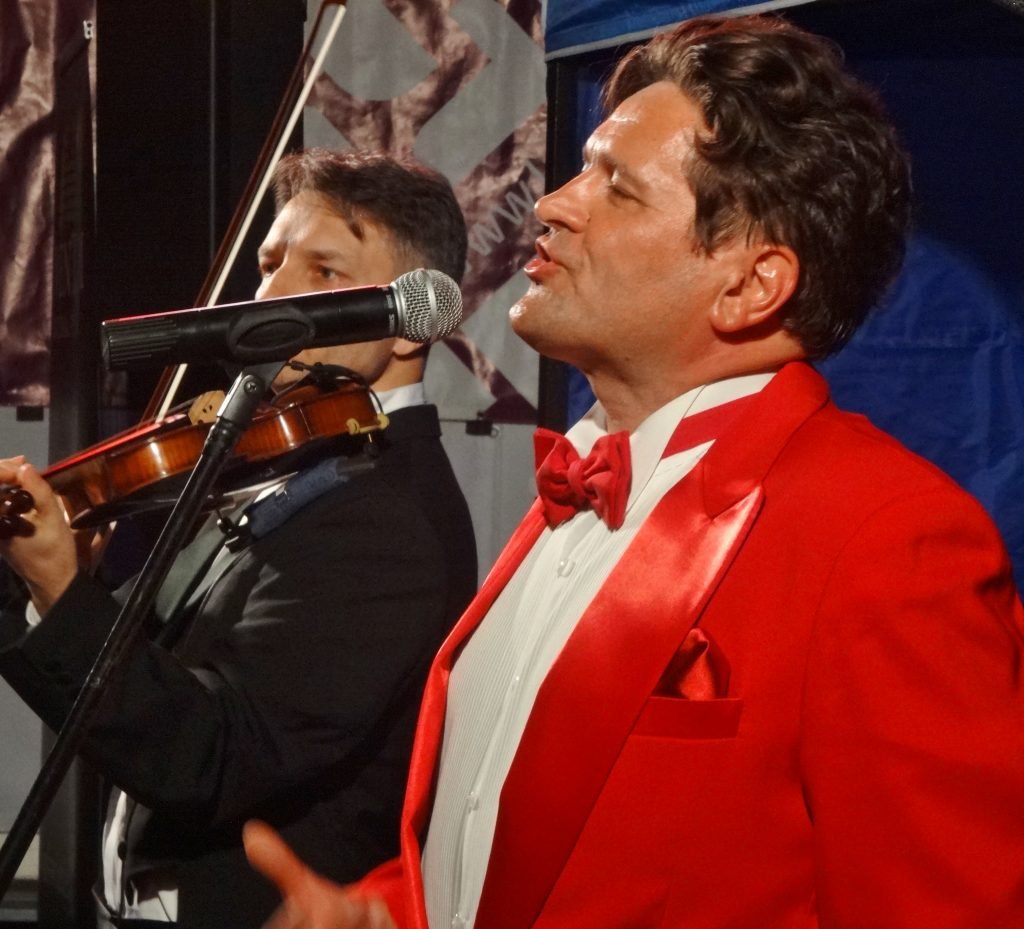 No cóż- kto nie był, niech żałuje. Kto był – będzie miał, co wspominać na długo. Nalewki to naprawdę szlachetny trunek. Wyraźnie podnosi temperaturę każdego  spotkania towarzyskiego. Tym bardziej tak uroczystego , jubileuszowego, na którym i super jadła nie zabrakło.
Atmosferę wieczoru zaogniły na koniec  piękne  fajerwerki. Na pytanie – czego nie było należy odpowiedzieć wszystko było. Było, co jeść i pić. Chętnych do popisów tanecznych przy muzyce zespołu Rem Faza,  też nie zabrakło.
W międzyczasie odbyła się charytatywna zbiórka pieniędzy na rzecz Hospicjum im. Małego Księcia w Lublinie.
Chwała za to Rodzinie pp. Gajków!
Grażyna Hryniewska
Zapomniałam o Braciach Kurkowych, uczestnikach IV Instalacji Lubelskich Braci Kurkowych i Inwestytury Kawalerów Lubelskich – Rycerzy św. Jana Kantego, a. oni przecież dodali kolorytu jubileuszowemu spotkaniu w Dworze Anna. A i jeszcze jeden istotny szczegół – grono "Pozytywnie Zakreconych" powiększyło się o Annę i Kazimierza Gajków. Gratulacje!