Stowarzyszenie "Wspólne korzenie", Agencja Promocji i Reklamy Art Models oraz Akademickie Centrum Kultury UMCS "Chatka Żaka", w ramach III Lubelsko – Lwowskiego Festiwalu Mody i Sztuki,  zafundowało lublinianom w minioną  Noc Kultury  wieczór różnorodnych przeżyć estetycznych i  artystycznych. Złożyła się na nie bogata prezentacja twórczości zarówno utytułowanych, profesjonalnych, jak i młodych artystów reprezentujących lubelskie oraz lwowskie środowisko twórcze.  Twórców związanych z Lwowską Akademią Sztuk Pięknych oraz UMCS w Lublinie (kierunek – Animacja Kultury oraz Wydział Artystyczny).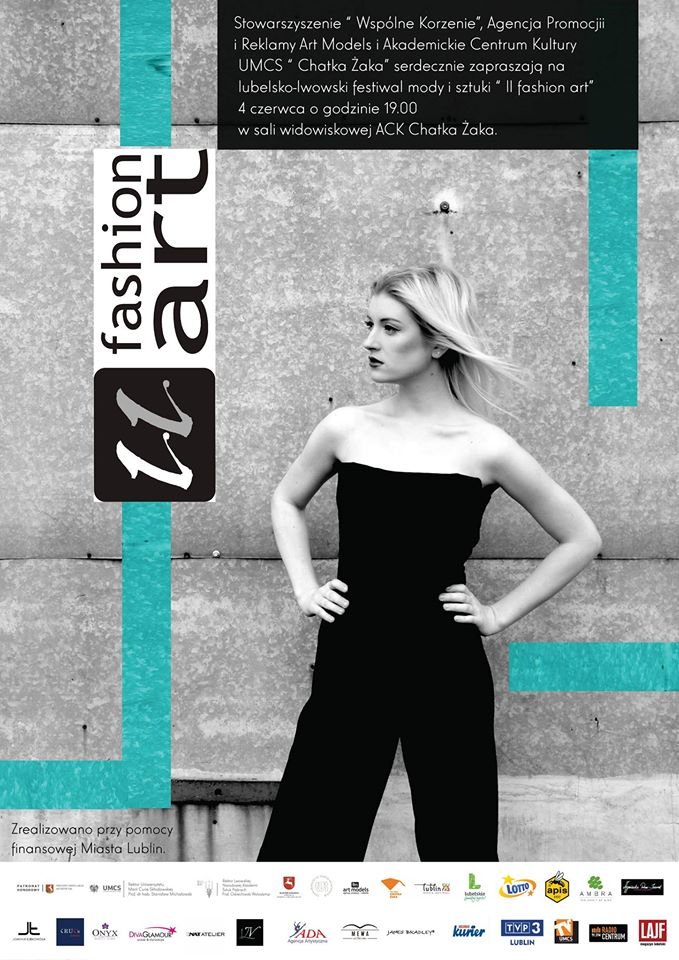 Bogactwo wyniesionych wrażeń nie pozwala mi na podzielenie się od zaraz wszystkimi doznaniami.  Przede wszystkim na ich obiektywną ocenę . Na początek zatem zamieszczam fotoreportaż.  Obiecuje jednak do niektórych twórców mody i sztuki wracać w już odrębnych relacjach. pogłębionych z bezpośrednimi z nimi rozmowami.
Nie mogę sobie jednak odmówić przyjemności powiedzenia ciepłych słów o projektantach mody z Lwowa. Wiedząc, że mają powiązania z Lwowską Akademią Sztuk Pięknych, prawie byłam pewna innowacyjnych pomysłów. I co? Nie zawiodłam się. Faktycznie powiało odmiennym modowo światem nacechowanym pomysłowością i indywidualizmem autorów poszczególnych kolekcji.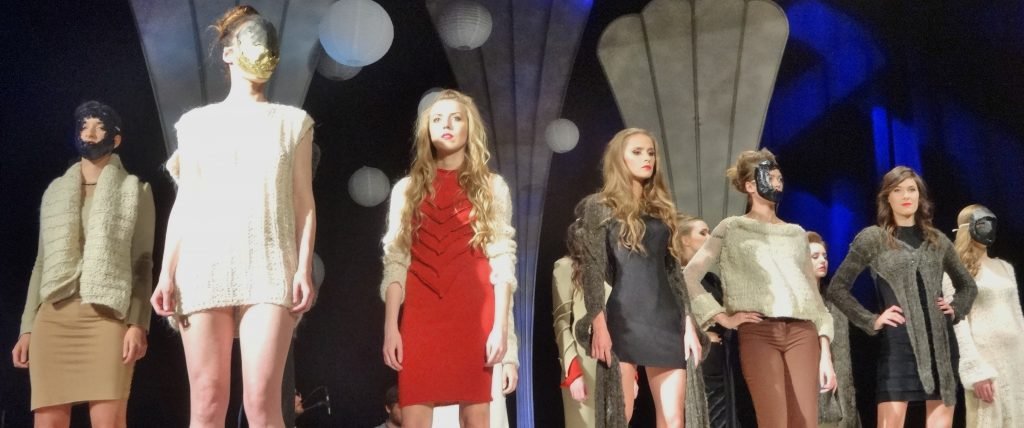 Olga
Urzekły mnie zwłaszcza  dwie kolekcje – wełniana, rzec by można, rękodzieło  Olgi ze Lwowa ( w sumie wielka improwizacja z maskami zapożyczona jakby z komedii dell'arte) i "TALK! Nat Atelier,  graficzna w zamyśle z mocnymi akcentami kolorystycznymi. Proszę popatrzeć…
 Gościnnie  zaistniała kolekcje projektantki z Białorusi – KRISTINE-V, składająca się ze skórzanych dodatków (paski, szelki, maski, body,itp.) które rozpalają zmysły. Ich adresatem są  kobiety odważne, pewne siebie i swojej sensualności…podobne bohaterce filmu "50 twarzy Greya".
 Lublin, prezentował duet polsko-amerykański,  siostry: Aneta Tokarz-Matys i Agnieszka Tokarz- Iwanek z kolekcjami na każdą okazję…
…oraz jak zwykle złotem i kobiecością emanująca w swoich projektach, Joanna Łubkowska z kolekcją "Walk of Eden". Ten rajski ogród kusi kolorami.
Nie zabrakło śpiewu
  i tańca. Soliści, duety oraz zespoły taneczne zaprezentowali  różne style taneczne. M.in. taniec nowoczesny, współczesny i estradowy z burleską włącznie.
Oklaskiwano rewię MIRAŻ ze Lwowa.
Równieżmuzyczo-wokalne lwowskie klimaty .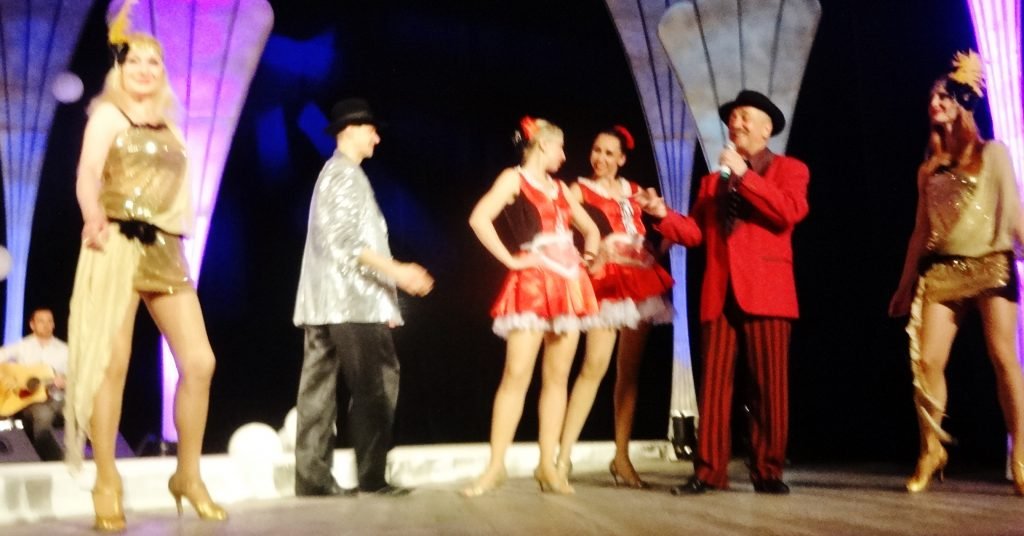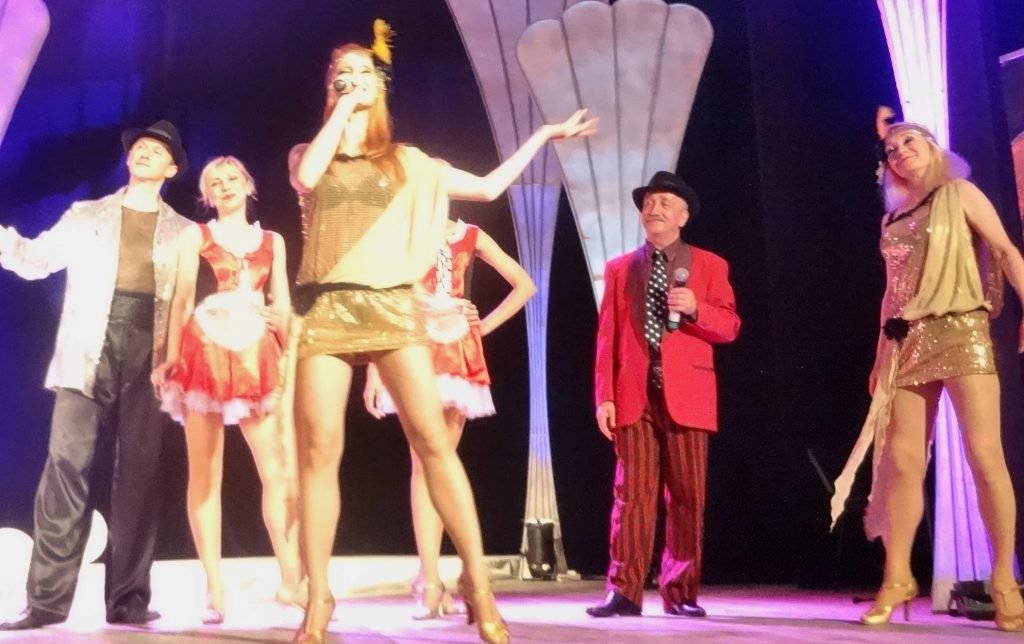 Mnie osobiście oczarował  zespół Cuatro Manos – duet gitarowy – Jakub Kotynia i Michał Lewartowicz plus Stanisław Siedlaczek- instrumenty perkusyjne. Myślę, że to nie ostanie moje z nimi  spotkanie…

Z przyjemnością donoszę, że nad całością strony artystycznej czuwał dobrze mi znany z dawnej współpracy, zarazem pomysłodawca Festiwalu, jak jego dyrektor artystyczny, realizator wcześniejszych spotkań z modą – Zbigniew Pakuła. Założyciel Agencji Promocji i Reklamy Art Models z Lublina.
                                                        Grażyna Hryniewska