Gwiazdy filmowe odważnie chwalą się ilością posiadanych butów. Ba, przechwalają. Jeśli jednak zajrzeć do szafy przeciętnej Polki wcale ich dużo mniej nie ma. No, cóż – nasza płeć kobieca ma słabość do butów. Nigdy też nie ma ich za mało! Lepiej jednak nie mówić tego publicznie. Publicznie? Raczej w obecności tego jednego, jedynego. Wiadomo – do awantury jeden krok…
Faktem jest jednak, że gdy już przyjdzie do zmiany sezonu w garderobie, buty sypią się z każdego kąta. Są na pawlaczach, półkach, w szafach, piwnicach, w pudełkach pod łóżkami… Wszędzie! I co? Nie ma co włożyć!
A, jakie buty powinno się włożyć w tym sezonie? Mamy ich do wyboru i koloru. W zależności od przeznaczenia czyli tzw. okazji.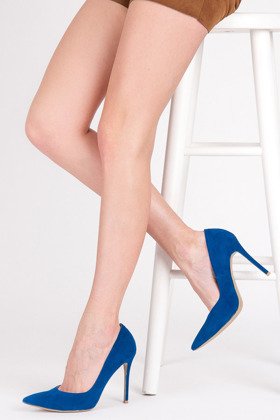 Najmniejszy problem stanowi – o dziwo- wieczór. W każdej garderobie kobiecej butów na wysokim obcasie , "szpilek" w najróżniejszym stylu nie brakuje. No i całe szczęście. Sama szpilki noszę od "dzieciństwa" i jakoś nie mogę się z nimi pożegnać, chociaż nogi bolą coraz bardziej.
 "Szpilki" pozostają niekwestionowanym liderem wśród damskiego obuwia. Stanowią, rzec by można, kwintesencję kobiecości. Gdy moda staje się bardziej kapryśna przyjmują niekiedy bardziej wymyślne konstrukcje. My, kobiety traktujemy je niezmiennie jako biżuterię nóg.
Tej wiosny i lata do rodziny butów na wysokich obcasach wciskają się przebojowo gladiatorki. To one konstrukcyjnie wydają się od zwykłych, klasycznych czółenek zamkniętych lub otwartych bardziej zabawne, bywa ekstrawaganckie. Są więc hitem
Każda z nas zawsze też marzyła  kiedyś żeby zostać baletnicą. No i może…za sprawą modnych butów wiązanych w kostce na kokardę, sznureczkowo itp.
Czym można przełamać taki kobiecy styl? Tylko i wyłącznie modnymi teraz Oksfordami. Jest to obuwie damskie w zamiarze z męskim charakterem.
Powrót do kobiecości gwarantują sandały. Na różnych obcasach. Do wygody – "kaczuszki" na małym obcasie.
Osobiście nie przepadam za kowbojkami, ale te pozostają hitem niezależnie od pory roku. Do jeansów – niezastąpione, podobnie jak do każdych innych spodni, a te na stałe wkradły się w damskie łaski.
Wiele pań, który zależy na sportowej elegancji powinno teraz sobie sprawić modne sneakersy. Niby sportowe buty, ale nie do końca za sprawą grubej podeszwy albo koturnów, które podwyższają sylwetkę i optycznie wyszczuplają. Okazują się niezastąpione w casualowych i sportowych stylizacjach. Ktoś trafnie powiedział, że  sneakersy stanowią równowagę między stylem sportowym i eleganckim.
Oddzielny , obuwniczy rozdział stanowią klapki. W tym sezonie, te płaskie przede wszystkim przypominają mało eleganckie kapcie z nosami zakrytymi i "obciętymi" piętami. Zawsze jednak w tych nowościach można wyszperać piękności. Mnie się to chyba udało…
Pięty w takiej oprawie nie zyskują na urodzie. Zdecydowanie wybieram takie:
Kilka słów jeszcze o hitowym w tym sezonie kolorze obuwia. Jest to wszechobecna biel. Nie zapomnijcie!
Grażyna